Greg V Racelis
<![if !supportEmptyParas]> <![endif]>
I am sure that when Filipinos started settling down in Jersey City they would have seen signs RACELIS all over the city. Indeed, it was also a sign that we could succeed in agency businesses like Real Estate. If you want to find Jersey City driving in the Garden State, you will know you are in the right place when you start spotting Racelis signs.†
<![if !vml]>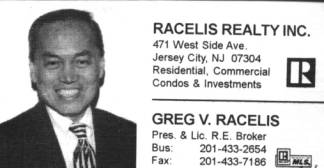 <![endif]>
<![if !supportEmptyParas]> <![endif]>
It is against this background that† I was amazed later when Greg joined the Jersey City Government even after becoming good at real estate & independently wealthy. I first thought it might be a step down for him, but I discovered the answer we worked together. He proved that Human Resources are more valuable and stable than the Real Estate business. A single person is greater than any personal property and he knows that because he started as an Accountant. He was the link, the contact man. He spent many hours, and I am sure even his off- time, serving the needs of the Filipino people.† The voice of you who at times are reluctant to take issue with city hall and conduit to city. I guarantee that this retirement is not the last time we will hear about him. It will be another great beginning, a great day for Jersey City as he is ready to help the Filipino-American community in even more ways. This is therefore just culmination of a great public servant called civil service.

Greg Racelis was one of the prime movers of the Rizal monument project in Jersey City.† The monument is one of ou visible landmark Now might be the time to plan a monument for Greg to commemorate everything he has done for the Filipino Community. It would be a daunting project, as Greg could be a victim of his greatness. He was so good in his real estate job that we may not be able to find any open real estate in the city big enough for a giant statue of this young man.

What we are celebrating tonight is not his final retirement. Most of the guest will be talking about what he has done.† I would like to focus on what he would continue to do. He will now be working closely with the Mayor. As a great political student, he will be learning from his mentor, the first African-American Mayor of Jersey City. He will be pounding the roads and with his passion and determination it will be another successful contribution to the city.

No need to have Philippines Chambers of Commerce, Racelis will do. He has been a welcome wagon for many of the Filipino newcomers in this city we know call our bagong bayan.

I pride myself as an early oldtimer in Jersey City. My first time here, the famous Mayor Hague was still alive, a man I would like to connect with the first Filipino in Jersey City. Hague was a boxing enthusiast and he ruled the city like one. He loved boxing so much that during his first term, he supported a New Jersey boxer by name Johnny Buff, who later became the US boxing Champion in the 1920s. The mayor went to New York City to watch his favorite son defend his title. Johnny Buff however was so soundly beaten that night that the Mayor left his ringside seat because he could not stand to watch the boxer getting up from the mat. The new Champion happened to be Pancho Villa, the greatest Filipino boxer of all time. Iím glad that I was not working for the city at that time to receive Mayor wrath the following morning. I make this reference to the Mayor of this city because perhaps one day, Greg could fill the seat of Mayor, another Filipino first.
<![if !vml]>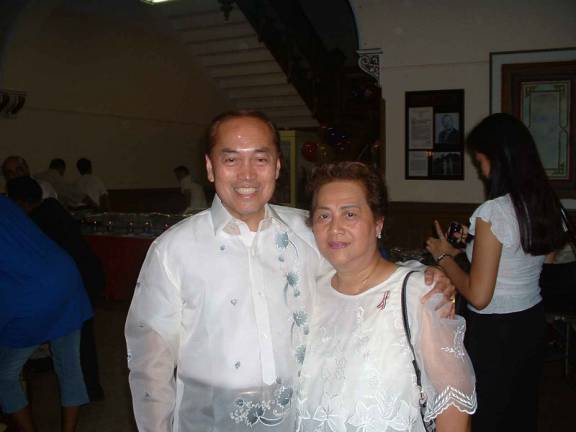 <![endif]>
<![if !supportEmptyParas]> <![endif]>

<![if !supportLineBreakNewLine]>
<![endif]>