IRAQ BLAST KILLS LONG I. SOLDIER <![if !vml]>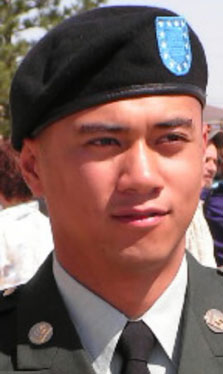 <![endif]>Paulo Pacificador, Pinoy Soldier. His father and grandfather served around the world and he followed.
August 17, 2007 -- A young Long Island soldier who emigrated from the Philippines, then joined the Army to carry on his family's military tradition, was killed in Iraq by a roadside bomb, authorities said. Pfc. Paulomarko Pacificador, 24, of Shirley, died Monday when his vehicle was struck by an improvised explosive device, the Department of Defense said.
Pacificador and two other soldiers in the vehicle died of the wounds they suffered in the explosion in Qayyarah. All three were based at Fort Bliss, Texas.
"It's surreal. It just couldn't happen," his younger brother, Rey Patrick, told The Post yesterday. "It was too early. I accepted the fact that something might go wrong, but nothing like this."
Pacificador, who emigrated when he was 6, joined the military to carry on a family tradition. "A pretty good portion of my dad's family was in the military in the Philippines," his brother said. Pacificador, a budding artist who was taking courses in aeronautical engineering, loved to make people laugh. "He was a really fun guy," his brother said. "He was one of those comical people who wanted everyone to smile and be happy." tom.liddy@nypost.com
Paulo Marko Pacificador was born in 1982 in Buguey, Cagayan, in the Philippines. His family moved to the United States in 1988 and lived in Virginia before moving to Jamaica, Queens, a few years later. They moved to Shirley about six years ago.
"There were balloons all over the place at home, and he says, 'I'm going,' and I said 'I'll miss you,'" she said. "It was my 50th birthday, and my son was being deployed in Iraq."Pacificador had hopes of being an officer, his father said. He was driving a Humvee struck by a (IED) bomb, his father said. He was field attillery automated tactical date system specialist earned the Iraq Campaign Medal.  He  will be posthumously awarded the Bronze Star and the Purple Heart.
"My son is full of life. He has lots of ambition," said his father, Jose Pacificador, a former soldier in the Philippines Air Force. "He has a dream to be somebody to someone."
A member of the 5th Battalion, 82nd Field Artillery Regiment, 4th Brigade Combat Team, 1st Cavalry Division, Pacificador returned from Iraq for two weeks in February.
"He was enjoying himself, eating, drinking with his friends," his mother said, adding that he helped out around the house, fixing a faucet and shower nozzle. Her son was starting to grow up, she said. Now, she said, she feels only pain.
"Oh my Lord, I cannot describe it," she said. "It hurts so much." (LI Newsday Aug 17)<![if !vml]>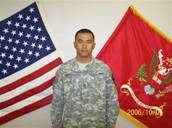 <![endif]> Write to your senator & representative to co-sponsor S57 & HR 760 as we continue to serve and die for freedom in this small world. There were many  before Pacificador as the Filipino American casualty rate in Iraq is much higher than any group. He is a real hero in this country and the country he was born.
The Filipino American National Historical Society of New Jersey in behalf of the Fil-Am WWII veterans displayed the above news at the Philippinefiesta in Meadowland Expo this weekend Aug 18-19. It caught many attention but I never expected the "comadre" (Mrs Antonio from Jersey City) of the the Pacificadors  was inside the big expo building. She was very close to Paulo that she was going to deliver that Eulogy for the fallen soldier. It was a very emotional moment for I could see her reading it in tears. She told me that the soldier was on the way home and funeral would be this Wednesday (Aug 22) in Long Island, It was far cry when just few months ago Paulo was on vacation for just few days and they gathered in the Pacificador home in Long Island. Even then she had strange premonition.
God Bless America and the Pinoy Nation. The Pacific Islander from the northern seacoast of Cagayan, the Ibanag (Tagailog), the Peacemaker (Pacificador) now rest in Peace.
<![if !vml]><![endif]>
<![if !vml]><![endif]>
August 18-19, 2007
SAT. 12noon-10pm AND SUN. 10am-8pm-
AT MEADOWLANDS EXPOSITION CENTER,
SECAUCUS, NEW JERSEY USA

<![if !vml]><![endif]>

Come to the Largest Gathering
of Filipino Americans in the East Coast!

THE EVENT | PHILIPPINE FIESTA FINALE 2007
POKWANG, PIOLO PASCUAL
POPS FERNANDEZ



<![if !vml]><![endif]>