The Philippine American Government Employees Association ("PAGEA") composing of Filipino-American employees in the Municipality of Jersey City has been recently formed.
One of the goals of the association is to expand the visibility of Philippine-American government employees who are available to serve as a "liaison" to the Filipino communities and individual, in providing information and extend help to the community relative to government services.
The organizational meeting of PAGEA was held on Thursday, March 25, 1999 at 4:00 P.M. at the Caucus Room, 2nd floor, City Hall, 280 Grove St., Jersey City. Next meeting is scheduled on Tuesday, April 6, 1999 at 4:30 PM. All interested parties are welcome to attend.

---

First Project/membership drive/Concert Presentation


Linda Mayo, Deputy Mayor

Coordinators
Ador Equipado, Deputy Mayor, Serafina Sengco, Ramon Tolentino

Committee Members:

Publication
Nestor P. Enriquez, Brian Felix, John de la Rama

Food
Serafina Sengco, Gina Abuan, Norman Marbella,
Adelle Tirona, Theresa Alejandro Olivia Mata, Tess Bulalacao,
Ray Gumapac, Cora Samano, Rosalinda Rupal,

Sound System
Steve Dimayuga, Ernie Santiago

Physical Arrangement
Ramon Tolentino, Rudy Caderno, Joan Tinio, Max Inciong

Program
Greg Racelis, Ed Toloza

Finance
Connie Capito

Recording Secretary
Adelle Tirona

---

THE PHILIPPINE AMERICAN GOVERNMENT EMPLOYEES ASSOCIATION
(PAGEA)
In Cooperation with the
THE JERSEY CITY DEPARTMENT OF RECREATION & CULTURAL AFFAIRS
PROUDLY PRESENTS
"A TASTE OF PHILIPPINE MUSIC"
FEATURING THE
CHAMBER CHORUS
of Bacolod City, Philippines

12 NOON, Thursday,April 22, 1999
Refreshments will be served
City Council Chambers. City Hall
280 Grove St., Jersey City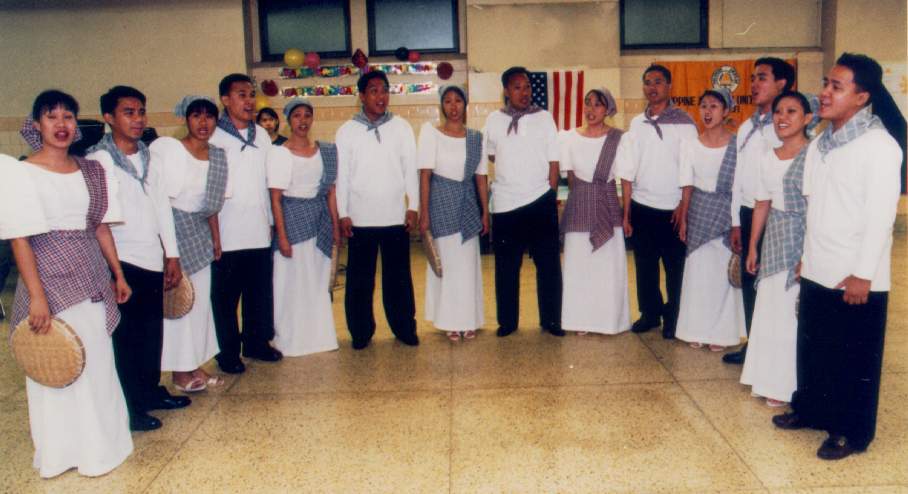 The CHAMBER CHORUS is currently on a six-week Post Centennial Concert Tour of the United States as "Ambassadors of Goodwill" promoting the diverse culture and heritage of the Filipino people through their renditions of Philippine Choral Repertoire. The Concert Tour is in cooperation with the Philippine National Centennial Commission, the Department of Foreign Affairs and Department of Tourism and the Jersey City Heights SDA Church.