Mayor Cunningham, Jersey City- A friend of us.
His sudden death was as surprising as his election as Mayor of Jersey City. When Cunningham became the first black mayor of the second largest city in New Jersey it was an inspiration for other ethnic group that it could be done. He did not only set the example however as he appointed more deserving Filipino-American in his cabinet and staff. Just couple of days ago I spoke to my town mate from the Philippines who told me how happy that his young daughter, Florence Andrada was working in State Senator Cunningham staff.
Excerpt from Anthony D Advincula reporting for the JERSEY CITY JOURNAL on May 28, 2004 the Mayors relationship with the Fil-am community:
A Jersey City community leader, still in shock as he spoke Wednesday, recalled his last moments with Mayor Glenn D. Cunningham, barely two hours before the mayor died after suffering a massive heart attack Tuesday night.
"I left him in vibrant mood, and before my bedtime, he's dead," said Lito Gajilan, 63, who was with Cunningham at the Department of Cultural Affairs-sponsored block party at Five Corners on Newark Avenue. "We lost another sincere man."
Gajilan, a founding member of the Philippine American Friendship Committee, said that when the block party ended around 8:45 p.m., the mayor put one arm around him and said, "Lito, thank you for coming. Can you give me a ride?"
But before he could say yes, Gajilan said, a woman he couldn't identify suddenly came up to them and told the mayor about an "emergency." Then Cunningham tried to use his cell phone, but to no avail, as its battery ran out.
"The mayor asked me if he could use my phone, but I left it in my car. So he excused himself and looked for a cell phone that he could use from the crowd. By the time I saw him talking on the phone, I decided to leave the party," Gajilan said.
While he was driving home alone, Gajilan described how uneasy he was in the car.
"I felt like I wanted to come back and give the mayor a ride," he said. "I'm not sure if it was my guilt that I didn't respond to him immediately, or that I saw something different on his face when I looked at him, which is a picture that has been vivid on my mind until this time."
Gajilan said that his heart sank when he learned around 3 a.m. Wednesday that the mayor had died.
Cunningham recently helped secure $170,000 for a renovation of Rizal Plaza, on Christopher Columbus Drive.

picture of the ongoing Rizal Monument site 5/31/04
Ludy Corrales, chairwoman of PAFCOM, circulated an e-mail tribute to the Cunningham.
"Our mayor loved and believed in Filipino-Americans. He always gave us the opportunity to progress," she said.
Over the last three years, Cunningham appointed three Filipino-Americans in his administration: Serafina Sengco, director of finance; Ed Toloza, city tax assessor; and Victor Sison, a municipal court judge.
"Mayor Cunningham has been a friend and an adviser to the Filipino community," Corrales said. "We shared the same vision, the same goals for our community."
I would add that we (Mayor and I) have something in common in more ways. Glen Cunningham spent sometimes prior to becoming mayor research black history of Jersey City. It was his passion as he was going to document the human struggle going as far as the Underground Railroad. The New York Times wrote he brought a quieter and studious side to City Hall with his passion for African-American history. Over the years he had applied himself to researching his own African roots as well as the many stops on the Underground Railroad as it passed through Jersey City. He made documentaries on the subject that were shown on a local cable television network in the 1980's, saw that official historical status was given to buildings and locations that were a part of the city's black history heritage, and spoke to school children about that heritage.
I served the US Armed forces probably earlier and longer than he did but equally proud on this Memorial Day weekend. Memorial weekend in Manila Avenue is simultaneously celebrated with the Annual Santa Cruz de Mayo. Mayor Glen Cunningham will not be marching with the Hermano Major this weekend but his legacy will be remembered.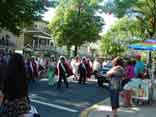 Ex Mayor Rivas in front of the Filipino-American Veteran Plaza
Nestor Palugod Enriquez
History of Filipino-American in Jersey City