CUADERNO - DOMINNO
1948-1998
The year was 1948. Quirino just took over the Philippine Presidency when Manuel Roxas died. Monetary rate of exchange was $1.00 to 2 Pesos. In JERSEY CITY the Mayor Kinney was preparing to take over the political machine from the Hague Era and the Democratic Party continued the domination.. The Philippine Peso currency of the decade was signed by Miquel Cuaderno. He was the Governor of the Philippine Central Bank and his kin Rudy Cuaderno married Fe on that year 1948. Rody followed the family tradition of working in the Banking and Financing business. After a successful career from Manila to New York City with Fe always in his side settled in Jersey City. This did not prevent him from accepting the Mayor request to work as Senior Citizen Commissioner in the City that they had chosen to spend their golden years.
This is 1998. 50 years later Rudy and Fe renewed their solemn vow at the Church Our Lady of Czestochowa without losing its original value. . Last night, the Republican Mayor of Jersey, Bret Shundler joined the hundreds of well wishers in the Golden Anniversary. Rody showed up cool as ever and Fe in her elegant Filipina dress reappeared as the beautiful girl who smitten Rody halfway around the world and half century ago. Their marriage never devalue throughout the years and remains Constant Power of 2. Today before the year is over the US dollar will probably exchange to 50 pesos.

The Cuaderno's children from all over the world honored their parents in the Celebration in Jersey City.
The Gala celebration ended with the dinner/dance at the Radisson Hotel in Secaucus, N J.

The youngest daughter Connie now married to Bobby Castillo are also now residing in Jersey City. Cynthia with husband Vicente Cu Jr, Lulu with Joseph Quitasol, Natividad with Edgardo Anolin, and Arnulfo Cuaderno, Riotoar, and Charles Cuaderno and Angie Cuaderno were the children who acted as the Principal Sponsors..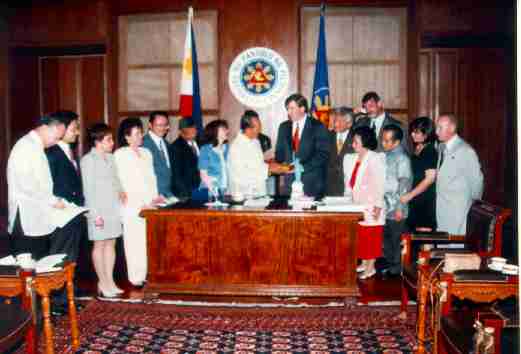 Cuadernos' Visit Malacanang
"There remain then, faith, hope, love, these three;
but the greatest of these is love." 1 Cor. 13: 13
Filipino-American History Webpage

Please E-mail me at phix7@yahoo.com